---
Instructional gymnastics classes are a great way for girls to develop self-confidence and positive body image while challenging their minds and bodies! Every student starts in the Beginner class and will be evaluated by coaches to determine skill level and mastery.
We have 2 optional meets every year in which athletes may participate. These meets are focused on having fun and getting a taste for demonstrating achievement and mastery!
Find out more about our homeschool instructional classes below and check out ur current class schedule. Want to try a class out? Sign up for a FREE trial today! If you have any questions, please give us a call (816)347-8008.
---
PROVIDING FUN FOR ALL AGES!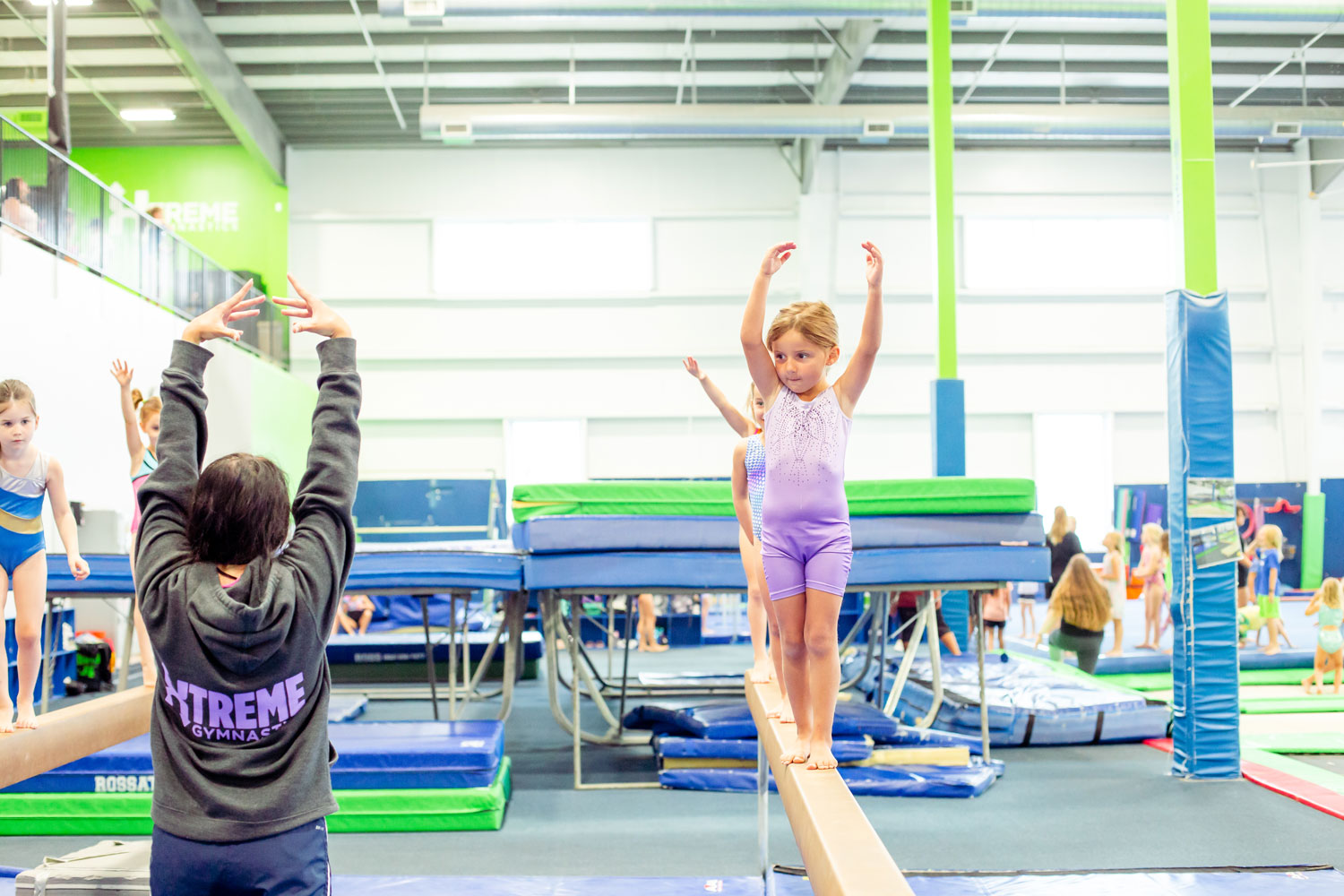 Girls Homeschool Class Descriptions
Our homeschool gymnastics instructional classes are broken up into five levels. We teach our students the importance of setting and meeting goals for personal growth. These classes will all have the option of participating in our in-house meets that happen twice a year! Our different classes include:
Beginner
Perfect for girls 6 and older who are experiencing gymnastics for the first time. Students will develop basic skills on Floor, Beam, Bars, and Vault and learn routines with the option of performing them at our twice yearly in-house meets.
Intermediate
Intermediate students will improve upon their mastery of basic skills. We'll begin expanding on athletes' independence by having them learn routines to perform at our in-house meets!
Level 1
This class will start learning more advanced skills and will continue to improve and perfect basic skills like handstands and bridges. It will focus on developing more strength, control and progressive tumbling skills such as round-offs. On the bars, girls will learn pullovers, back hip circles and controlling large casts. On the balance beam, they will start learning more complex holds, as well as kneeling cartwheel dismounts. Girls in Level 1 classes will work on routines and have the option to compete in our in-house competitions!
Level 2
In this level, girls will start working on leading-edge dance and tumbling skills on the floor, as well as on the balance beam. This includes back walkovers and 1/4 snap-turns on the floor, and handstands and standing cartwheel dismounts on the beam. Bars will add more circling elements, such as basket swings, along with glide-swings. Level 2 classes will work on routines and are encouraged to participate in our in-house meets. Girls in this class will progress to a Level 3 Class or potentially join our Homeschool team.
Level 3
This is the most advanced level in our homeschool program. Girls will be working on the same skills as our competitive Level 3/XCEL Silver athletes! This includes front and back handsprings, all types of handstands and a variety of leaps, jumps and turns. They will begin to learn to execute a front handspring over the vault table. On bars, they will start working on kips, jumping to high bar and tap swings. The girls are still encouraged to participate in our in-house meets and may also join our  Homeschool Team.
If you're interested in a FREE trial and evaluation with one of our coaches register today or call (816)347-8008!