KC League Gymnastics Meets
Spectator admission is $5.00 for ages 2 and up
Xtreme provides nothing short of an exceptional atmosphere for everyone. Concessions are available along with the pro-shop stocked with beautiful leotards and custom items for spectators and athletes. We provide multiple parking options for your convenience.
Xtreme Gymnastics offers two unbelievable play areas that are supervised for siblings ages 2 and up! Our Lily Pad is perfect for ages 2 through 5, admission TBA.  Our Motus Ninja Warrior Gym is for ages 6 and up, admission TBA! Siblings can play and run their energy out while your daughter rocks the meet of her life on the gym floor!
Learn more about our two KC League Meets, and call our office at (816)347-8008 with any questions!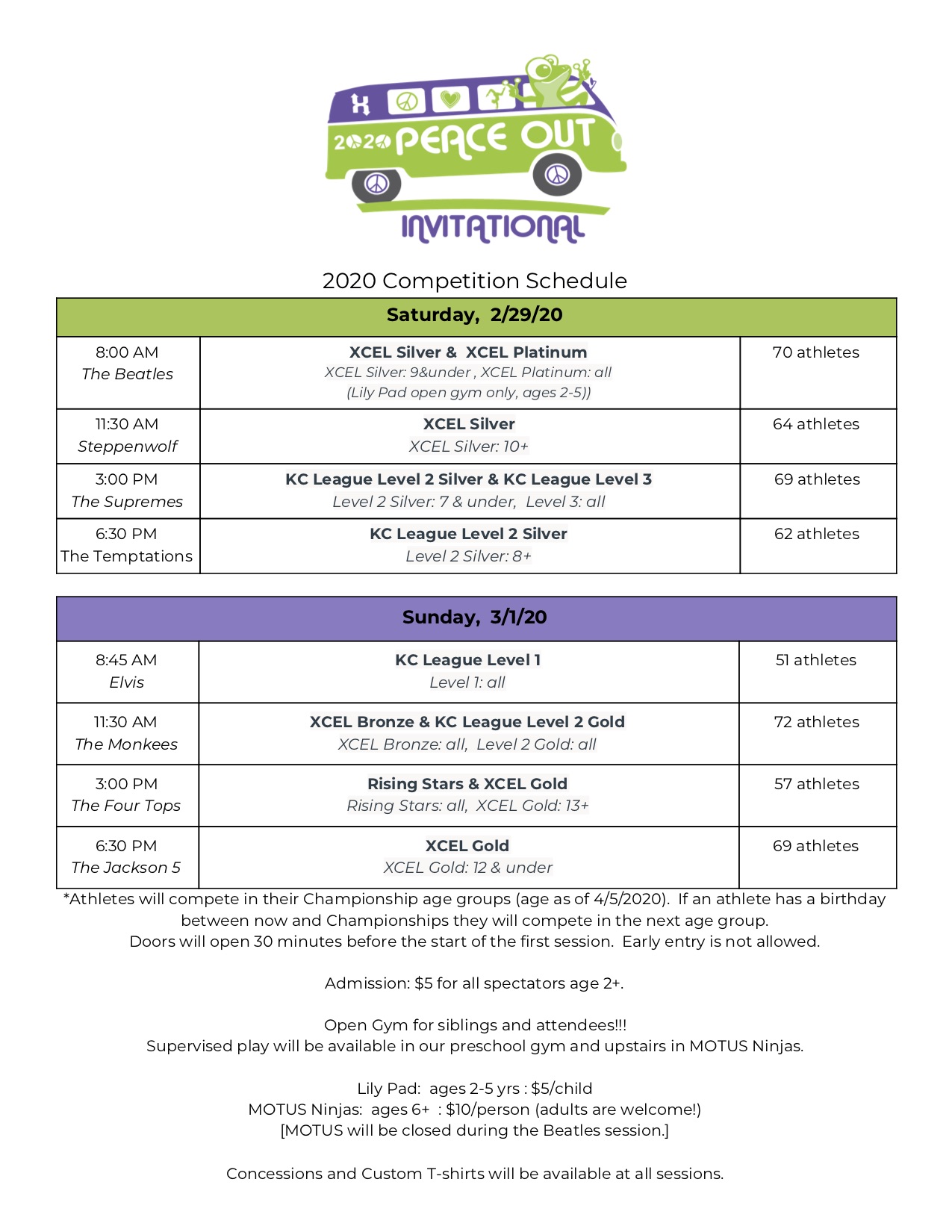 Peace Out Invitational
Our 7th annual Peace Out Invitational will be held Friday, February 28, through Sunday, March 1 here at Xtreme Gymnastics. Our meet is one your team won't want to miss. We welcome all KC League Athletes from Rising Stars-Level 4 and XCEL Bronze through Platinum!
Meet Details
*Athletes will compete in their Championship age groups (age as of 4/5/20).  If an athlete has a birthday between now and Championships they will compete in the next age group up. Doors will not open before 7:45 AM each morning. If you arrive early for your session and the session before yours has not finished, we will be unable to allow early entry.  
 
Additional Activities 
Lily Pad: Supervised play in our preschool gym for siblings! For ages 2-5 years old. Price TBA
Motus Ninja Warrior: Supervised play in our Ninja Warrior gym for ages 6+ (adults are welcome to play too!)  Price TBA. There will be no Ninja Warrior available for session 1 on February 29th. 
 
Concessions will be available at all sessions. Customizable meet t-shirts will be available as well!
Entry Deadline: 1/24/2020
Meet Director: Sarah Lee Meet Contact Info: (816) 600-0195 ext. 1, 725 NW Commerce Drive, Lee's Summit, MO 64086, sarah@xgtkids.com
**Late Entries will only be accepted based on available space. Late entries will be $10 per athlete. A late fee will be accepted until 1/21/2020.
Refund Deadline 2/1/19 (Checks will be delivered at the competition) No refunds past 2/1/19. Please enter through BTS, then immediately mail a hard copy of the entry and payment in full. Entry will not be completed until all three are complete and subject to late fees. Entries without hard copies and payment on or before the deadline will be subject to late fees.