Signing up for a trial on the Parent Portal:
1. Select Parent Portal Tab on xgtkids.com
2. If you are new to the Xtreme Gymnastics create an account and log in
3. Once logged in, select the "student tab" on the left menu bar: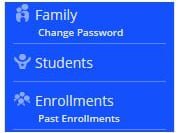 4. Add Student information - Once a student is added, select "Enroll in classes"

5. Use the filters at the top to narrow down class selection
On the left you will see if a class is open, on the right will be the option to submit a trial request.
Once the class has been selected, click on the "Submit Request" button

6. In the drop-down menu for Enrollment Type select "Trial" 
Choose the date you would for your student's trial class* - trial classes may only be scheduled 14 days in advance
Once type and date have been selected, click "Continue Enrollment"
7. On the next screen, select "Add to Cart"
8. On the next screen, select "Proceed to Checkout"
9. On the next screen, select "Continue"
10. On the final screen, select "Complete Transaction"
Use the instructions to the left when you click the sign-up button.
We look forward to meeting you!