---
Welcome to the Lilypad! Our Lily Pad is the largest preschool gym in the area, a one-of-a-kind, 5400 square foot gym space that is solely dedicated to helping your toddler grow and develop. Our lesson plans change monthly to keep children engaged and develop a solid foundation for gymnastics as well as life skills. Our class descriptions below will help you find the perfect gymnastics class for your child. View our class schedule below and sign up for a FREE TRIAL class today! If you have any questions, please call our member services staff at 816-347-8008
---
PRESCHOOL GYMNASTICS: WHERE GYMNASTICS IS FUN!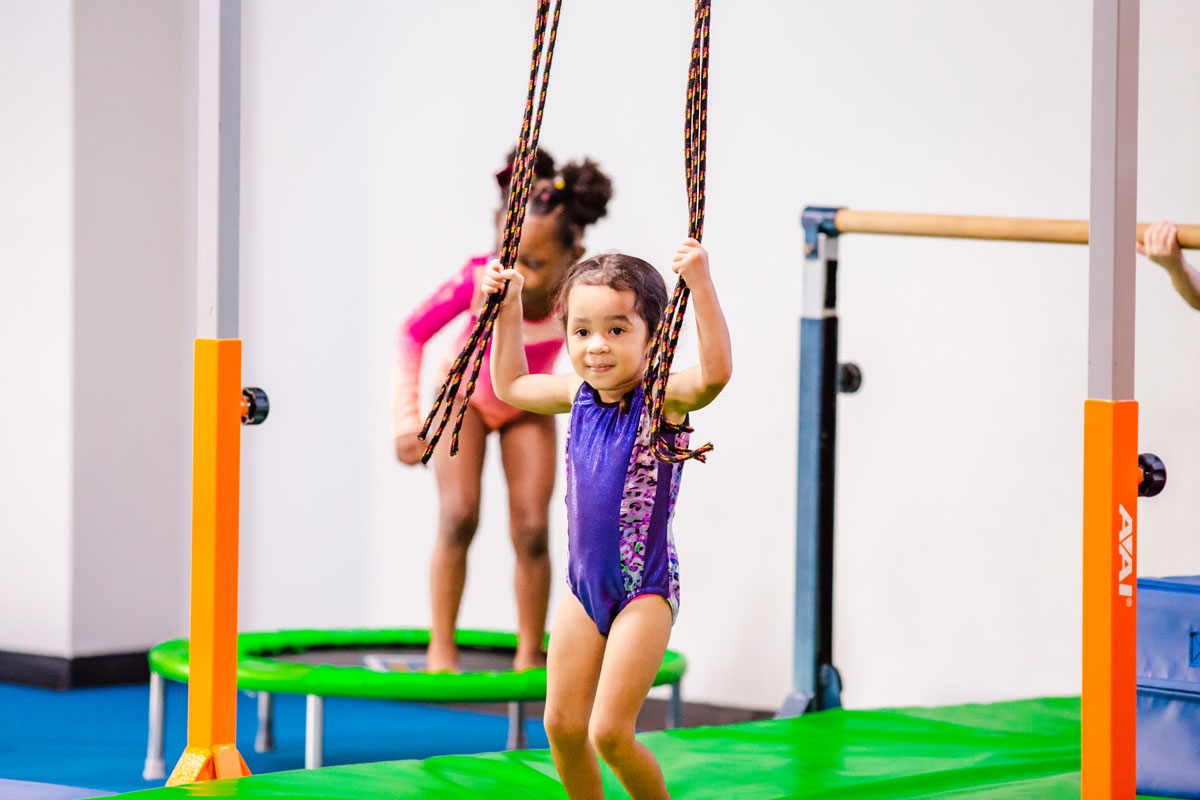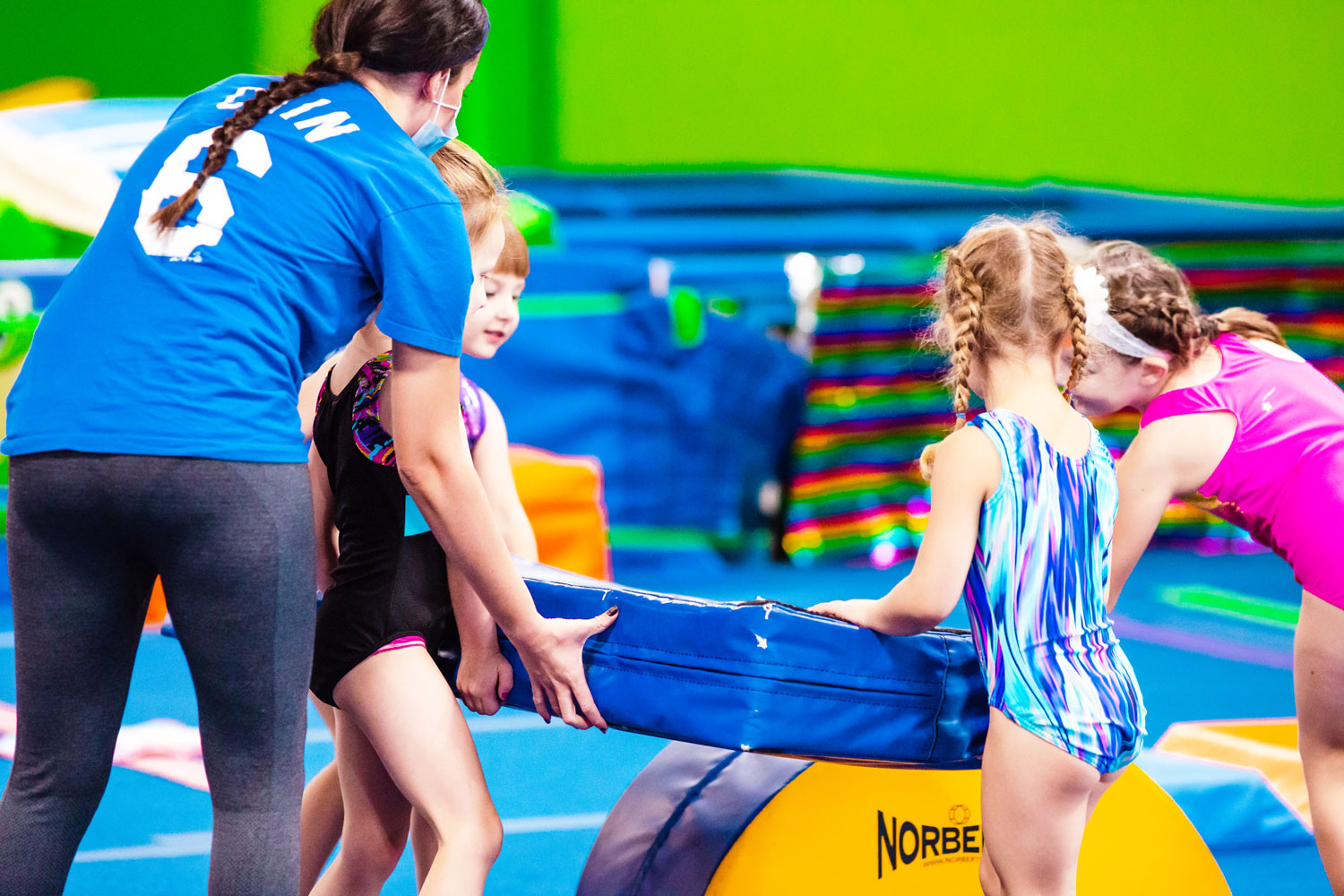 Preschool Class Descriptions
Tiny Tadpoles (Parent and Toddler 18-36 mo.)
Parent and Tot class is a wonderful bonding experience for you and your toddler ages 18-36 months. During the class, parents will be their toddler's helper to explore the Lily Pad. Balance, coordination, body awareness, and gross motor skills will be the focus of class while we run, jump, kick, swing, crawl and have fun in the Lily Pad.
Little Leapers (3 yrs. old)
Little Leapers is a preschooler's first experience in class without a parent. In this class, preschoolers will begin to learn the basics of gymnastics in a safe, fun, developmentally appropriate environment with other children their own age. Little Leapers will focus on developing bodies, minds, and social skills. 3 year olds will work on the building block of gymnastics and academic skills while learning to share, be part of a group, take turns, and use impulse control in class.
Junior Jumpers (4-5 yrs. old)
The Jr. Jumpers class is similar to Little Leapers, but moves at a faster pace and continues beyond basic building blocks of skills to skill acquisition. Each monthly lesson will work on rolling, inversion, bounding, supporting, balancing, and strength on vault, bars, balance beam, and floor. We will continue to build character through athletics as we cheer each other on, overcome fears, and celebrate successes from perseverance and hard work.
Super Jumpers (Advanced 4-5 yrs. old)
Super Jumpers builds on the solid foundation built in earlier classes and stresses still acquisition and mastery. Repetition of basic skills, drills, and strength activities will help your preschooler begin to master more complex skills with proper technique. Our Lily Pad equipment and staff help our kids learn to push themselves further and work harder each week to continue gaining skills. Athletes may be invited to or try-out for our Super Stars PRE-TEAM!
---
Benefits of Gymnastics for Kids
Teaching kids gymnastics and getting your toddler in gymnastics classes has a variety of benefits for your child's overall health and wellness. They get to develop physical skills and strength while also building self-confidence and creativity through what they will learn. It also builds a strong foundation for additional sports your child may be interested in as they get older. What are some of the benefits of pre-k gymnastics?
Encourages skill and child development. Learning and developing new skills like those your child learns in preschool gymnastics builds self-confidence and encourages them to discover the things they're interested in as they grow.

The self-esteem developed through teaching kids gymnastics gives them the opportunity to value themselves just the way they are.

Preschool gymnastics helps to build and frame routine for your child through consistent, scheduled extracurricular activity. This helps to provide confidence, control, and security while preparing them for what it will be like having a school routine.

Gymnastic classes enhance your child's physical development and provide a way for them to develop strength, flexibility, coordination, balance, and control over their bodies.

Toddler gymnastics helps to lay a foundation for physical fitness throughout your child's lifetime—not to mention the development of gymnastics skills activates cognitive development through their understanding, application, and eventual mastery.

Preschool gymnastics allows for the development of the entire child, not just their physical selves. They are taught how to listen, follow direction, take turns, and share.
---