Preschool Gymnastics: Where Gymnastics is Fun!
Are you looking for a fun, educational way for your toddler to be active? Our toddler and preschool gymnastics classes are perfect for kids age 5 and under who love to move! Our classes will introduce your child to basic gymnastics skills like rolls and cartwheels, as well as help to strengthen the fine and gross motor skills needed for every sport, as well as everyday life.
Gymnastics for Kids
Our Lily Pad is the largest preschool gym in the area - a one-of-a-kind, 5,400 square foot gym space that is solely dedicated to helping your toddler grow. Our talented staff uses creative monthly-themed lesson plans for teaching kids gymnastics that engage in brain development and growth through movement in our preschool program. Check out our class schedule, choose one of the many options that fit your schedule and enroll in your FREE trial class today! Our class descriptions below will help you find the perfect gymnastics classes for your child. If you have any questions, please call our member services staff at 816-347-0195.
Benefits of Gymnastics for Kids
Teaching kids gymnastics and getting your toddler in gymnastics classes has a variety of benefits for your child's overall health and wellness. They get to develop physical skills and strength while also building self-confidence and creativity through what they will learn. It also builds a strong foundation for additional sports your child may be interested in as they get older. What are some of the benefits of pre-k gymnastics?
Encourages skill and child development. Learning and developing new skills like those your child learns in preschool gymnastics builds self-confidence and encourages them to discover the things they're interested in as they grow.
The self-esteem developed through teaching kids gymnastics gives them the opportunity to value themselves just the way they are.
Preschool gymnastics helps to build and frame routine for your child through consistent, scheduled extracurricular activity. This helps to provide confidence, control, and security while preparing them for what it will be like having a school routine.
Gymnastic classes enhance your child's physical development and provide a way for them to develop strength, flexibility, coordination, balance, and control over their bodies.
Toddler gymnastics helps to lay a foundation for physical fitness throughout your child's lifetime—not to mention the development of gymnastics skills activates cognitive development through their understanding, application, and eventual mastery.
Preschool gymnastics allows for the development of the entire child, not just their physical selves. They are taught how to listen, follow direction, take turns, and share.
Preschool Gymnastics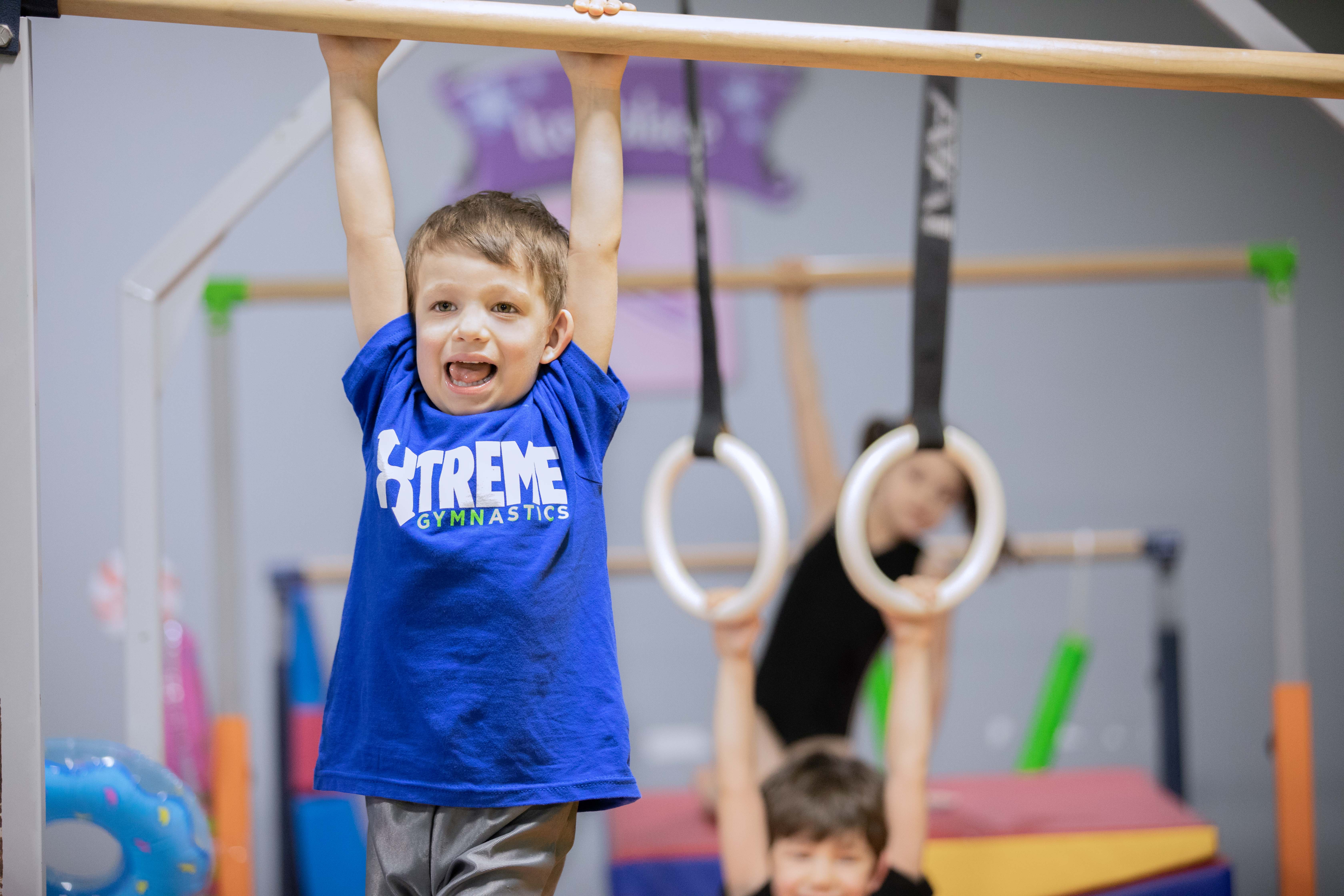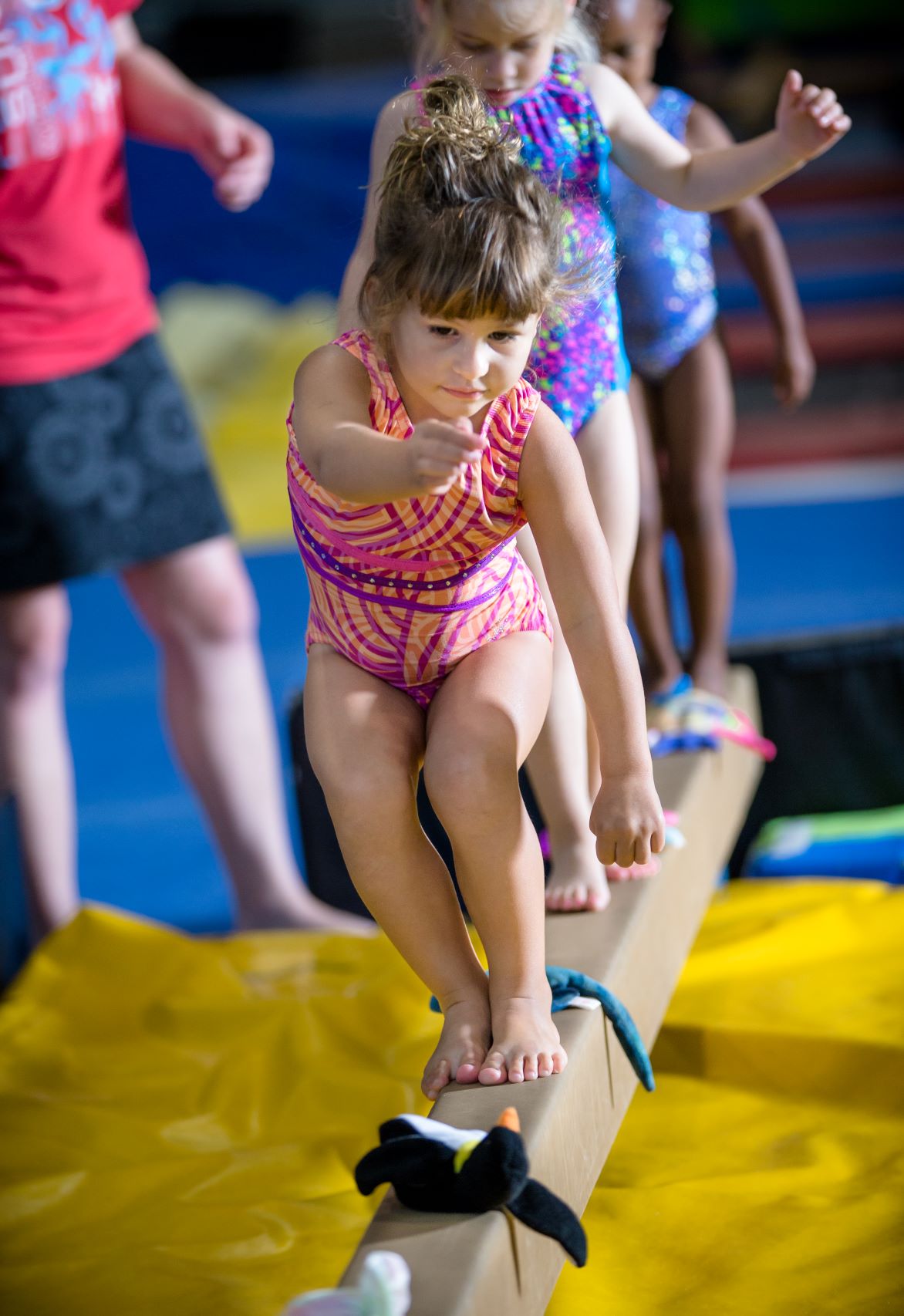 Parent & Tot
We're committed to providing a healthy, balanced experience for you and your child. Our Parent & Tot class reinforces parent and child bonds and is perfect for children aged 18-36 months. Your child will get to move by running, jumping, rolling, throwing, kicking, bouncing, and more!
Mini Tots
Mini Tots class is designed to help three-year-olds learn gymnastics basics while developing strong social skills with the help of a coach. We focus on developmentally appropriate gymnastics skills like rolls and beginner tumbling. This preschool gymnastics class will incorporate numbers and colors while teaching them how to share, take turns, and work as a group.
Mega Tots
Mega Tots if mega fun for our 4 and 5-year-olds. This class will teach children the basics of beam, vault, floor, and bars; as well as teaching them important life skills such as impulse control and cooperative teamwork. Our lessons will focus on developing a strong gymnastics foundation. Once students have started growing in their foundational skills and strength, they can be moved into the Advanced Mega Tots class.
Advanced Mega Tots
The Advanced Mega Tots class will help athletes build on the foundational skills and strength developed in the Mega Tots class and then learn to also incorporate skill connections and memory work. The Advanced Mega Tot athletes will also be invited to show off all they have learned three times a year with our recreational gymnastics meets.
Once your child has turned 6 years of age, they may graduate to our girls gymnastics classes or join our competitive pre-team as a Rising Star or Super Star. Xtreme Gymnastics provides many options where athletes can continue to improve their skills. Schedule your free trial class today!