Summer with Xtreme!
Xtreme Gymnastics is NOW OPEN for summer camp starting June 29th! We are committed to developing character through athletics. Our one-of-a-kind Summer Camps provide positive, educational opportunities for your child all summer long. We are committed to helping children learn about healthy, balanced living in a positive and fun environment. If you're interested in enrolling your child in our amazing one of a kind camps, sign up below or call (816)347-8008 today!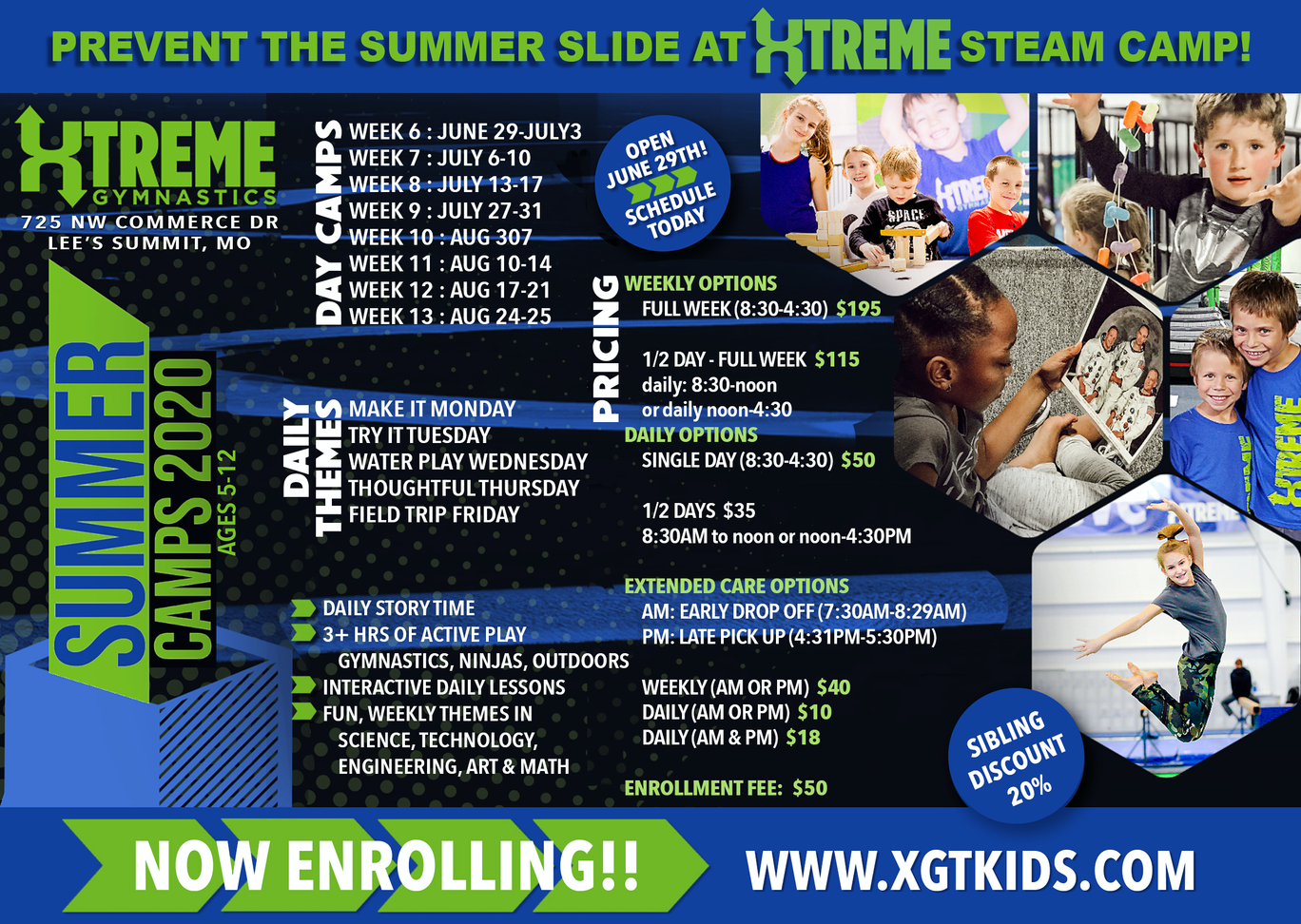 SUMMER DAY CAMPS
Xtreme's day camp programs are designed to stimulate young minds and provide exciting, educational opportunities all summer. In an average day, your child will experience a structured, appropriate-level sports (gymnastics, trampoline, or ninja warrior) class, games, art projects, STEAM activities, character development, reading and more. There will be different STEAM-related themes each week. Some possibilities are: Blowing in the Wind, For the Birds, Fly with Me, Good Vibrations, and more!
Our summer camps begin on June 29th and end August 25, from 8:30 AM until 4:30 PM with options for extended morning and evening care.
What should my child bring?
A great attitude and desire to learn is the most important tool our students will need this summer!
They will also need to bring running shoes, socks, shorts, a t-shirt, and non-spray sunscreen. Please pack towels and swimsuits on our designated swim days only. Xtreme Gymnastics will provide two healthy snacks per day for children, but full-day campers are expected to bring their own lunch. Students with dietary restrictions should also bring their own snacks.
We are a peanut-free zone, we kindly ask students to refrain from bringing in peanuts or peanut by-products.
Ready to set your child up for a summer of exploration and fun? Call (816)347-8008 to speak with our staff today!